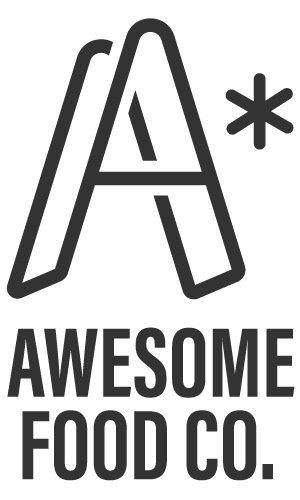 Extra Virgin Olive Oil + MCT: a powerful duo for brain & body
Boost, nourish and energise your worthy insides with a Keto, Vegan, and Paleo-friendly drop ready to be consumed raw, pan-fried, drizzled over a salad, or shaken in a dressing.
Trust Awesome to bring some of the world's best olive oil to your table.
We have. And it's packaged as a powerful duo for brain and body.
A duo pairing our award-winning, locally sourced, produced, and grown EVOO with MCTs (Medium Chain Triglycerides): MCTs derived from 100% natural coconut oil – not palm oil – cutting palm plantations down is like letting off a carbon bomb while starving the orangutans…
Coconut oil has unique, super-rich fatty acids the body can't store and is known to aid cognitive function, physical performance, weight management, and it's far better for the planet.
Do yourself – and the apes – a double dose of good from this baby blue 500ml can.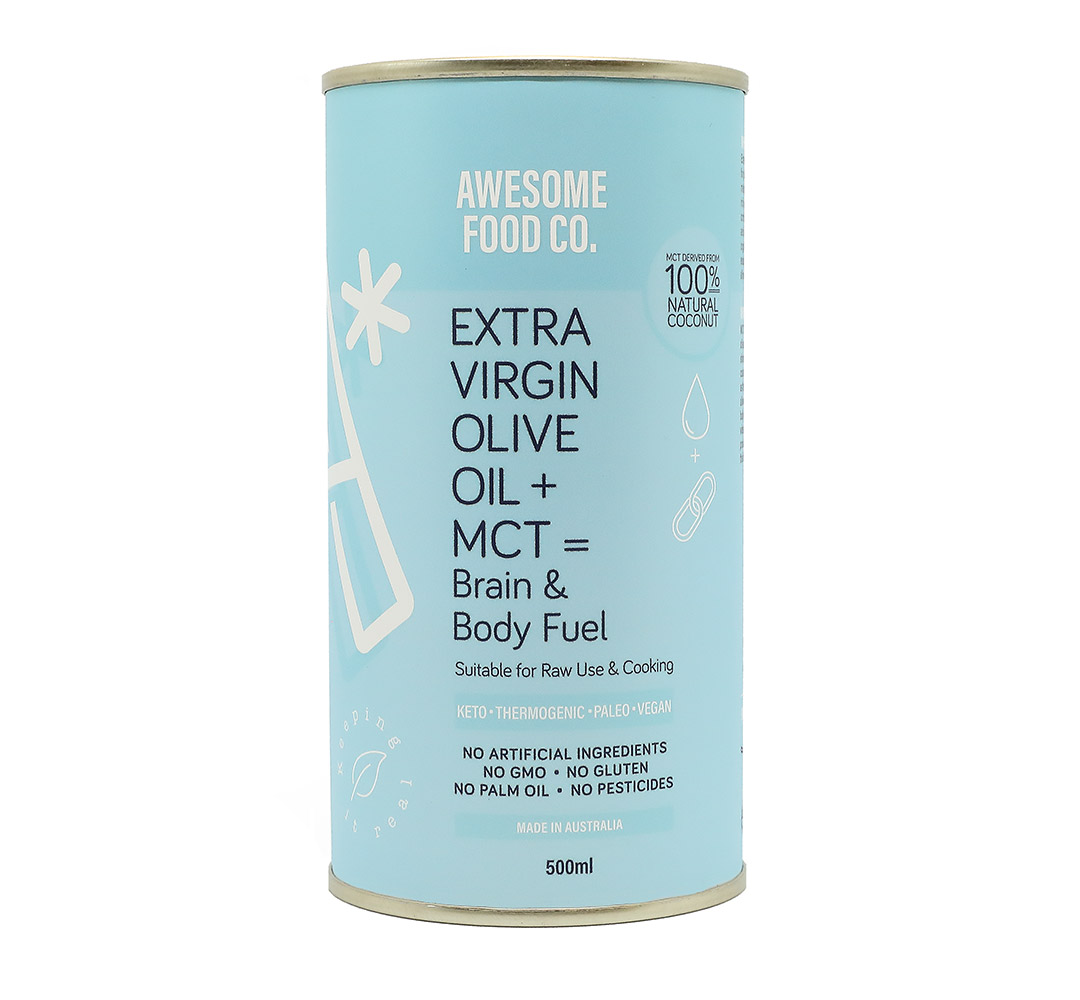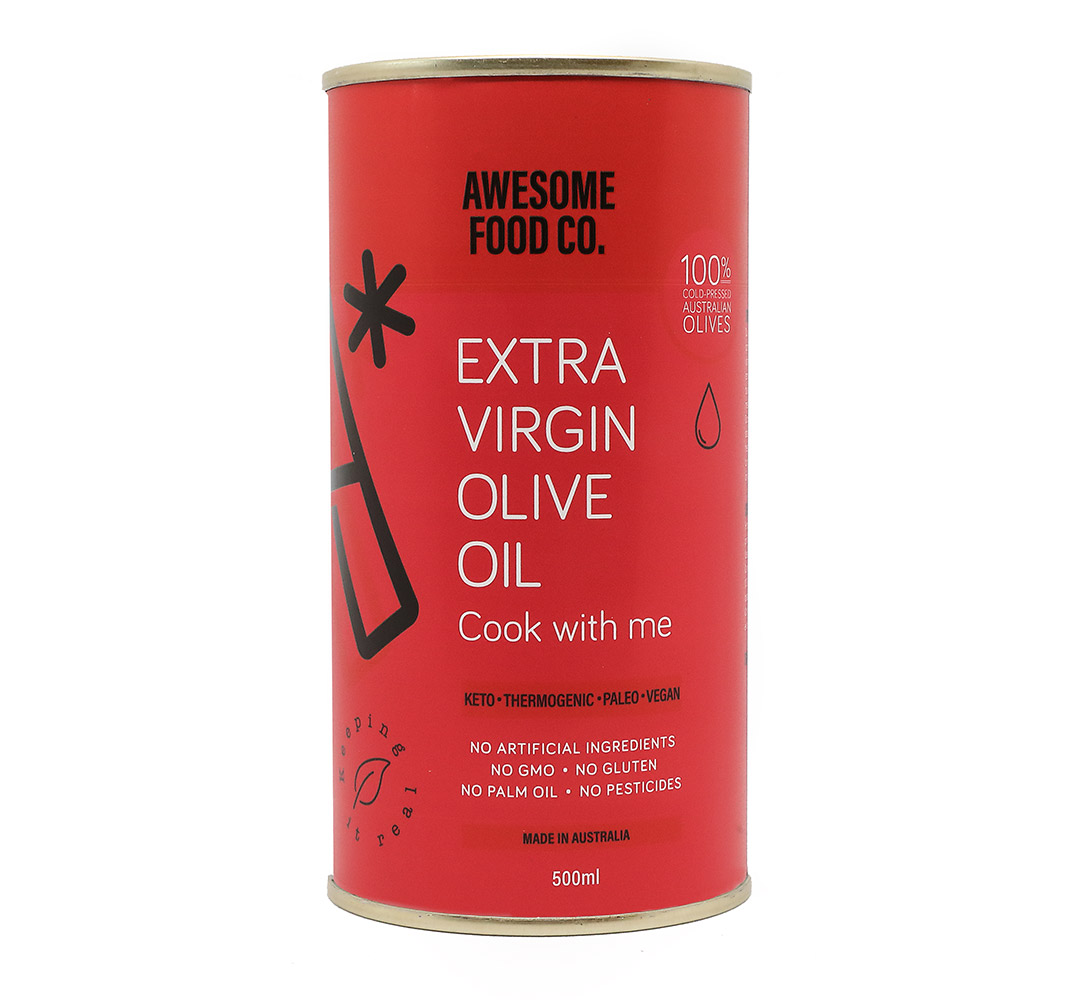 Extra Virgin Olive Oil: Take it to the flame
Our new season EVOO isn't just made by award-winning Aussies the authentic, cold-pressed way and full of potent protective antioxidants and vitamins – it's designed to be fired up!
Add flavour and depth to your Mediterranean – or any cuisine – with nourishment and energy thrown in, naturally.
Kick cholesterol to the curb – the bad stuff, anyway – with an aromatic hint of pear and a peppercorn heat from the totally Awesome red can, full of locally grown and harvested, internationally accredited olives, ready for pan-fried, stir-fried, or stove top action.
It's a mouthful, but trust us, it's a good one.
MCT Oil: The Awesome way to boost your brain, body & metabolism
Here's a super slick move you can slide into a smoothie, a brew, or over a salad in taste-free, odour-free, water-soluble, easily digestible liquid form to fire up your brain, body, and metabolism.
No nasties, just the all Awesome-ness derived from 100% natural coconut oil, and rapidly oxidised for energy minus the carbs. It's too easy.
What's more, it's a no-prescription-required daily addition to a healthy diet that can protect your heart, manage some gastrointestinal disorders, even diseases like Alzheimer's, epilepsy, and autism.
You can't get a more powerful, all-natural health partner than that in a can.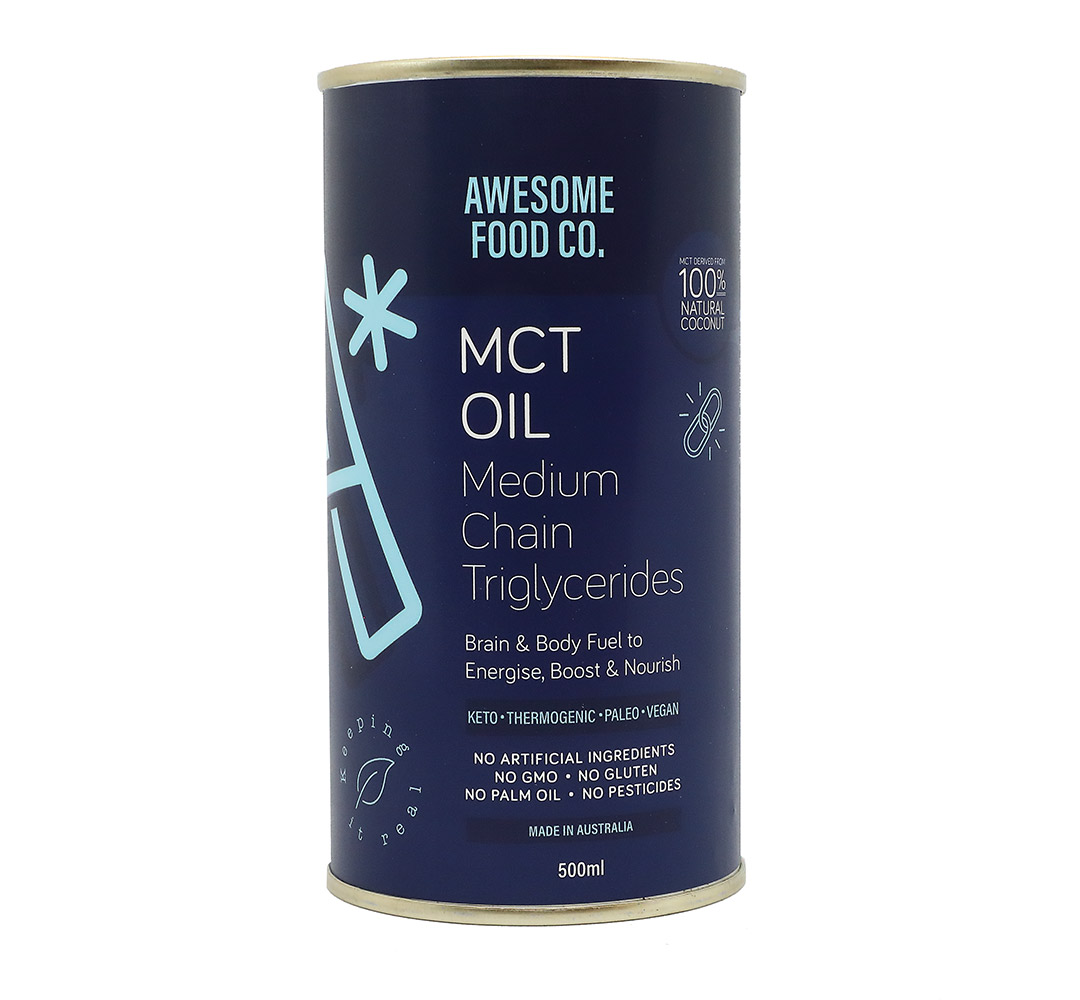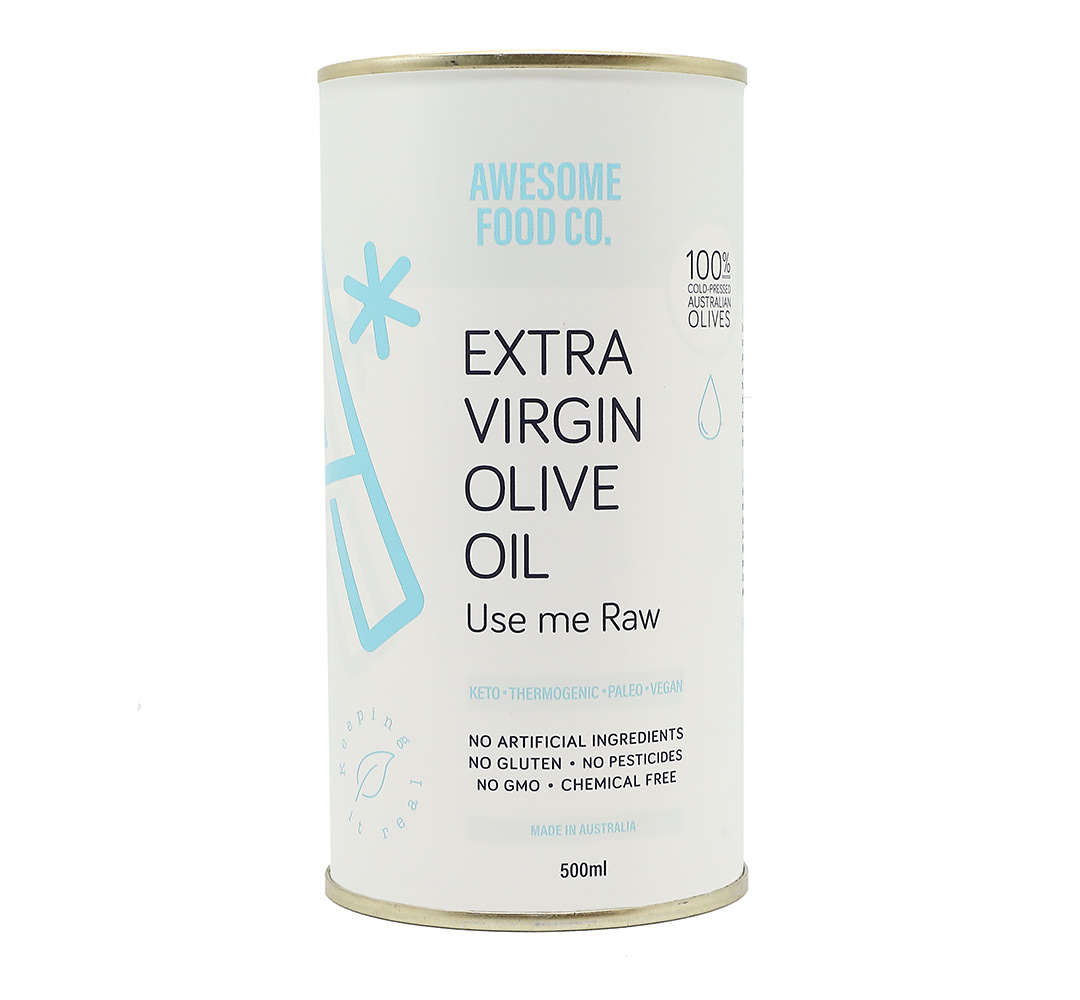 Extra Virgin Olive Oil – pure, raw, liquid gold
Take it raw, shaken, stirred, straight from its pure white can to any plate or snack deserving its full-bodied punch; as a focaccia's best friend, to liven a marinade, or to make your pesto glisten and go the extra mile.
And thanks to those mono-unsaturated fatty-acids (the healthy stuff you can't see) it's doing you the world of good.
How good? Awesome Food Company use only 100% Adelaide Hills and Murray Lands grown, harvested, cold-processed, new season Rio Vista Olives, accredited by the International Olive Oil Council, passing its free fatty acid microbiological testing, and awarded the Golden Olive Award 2020.
Supporting local, supporting health. Way to go Awesome.
Extra Virgin Olive Oil + Juniper: World-first wow-factor in a can
Here's where our awarded EVOO goes OTT, but in an Awesome way, and you'll want some.
Rain it over fresh sashimi, swirl it into a designer martini, or soak it into spongey bread for major tastebud satisfaction. Dinner parties? This will lift your game.
And you can talk up its benefits around the Ligne Roset. The polyphenols in EVOO not only furnish the immune system and protect you from heart disease, they display anti-cancer activity too.
Perhaps just hold the Chianti and whip up a gin sling with a juniper berry twist instead?
So much more than chic, world-first bragging rights in an Awesome can.
Go black, and you'll never go back…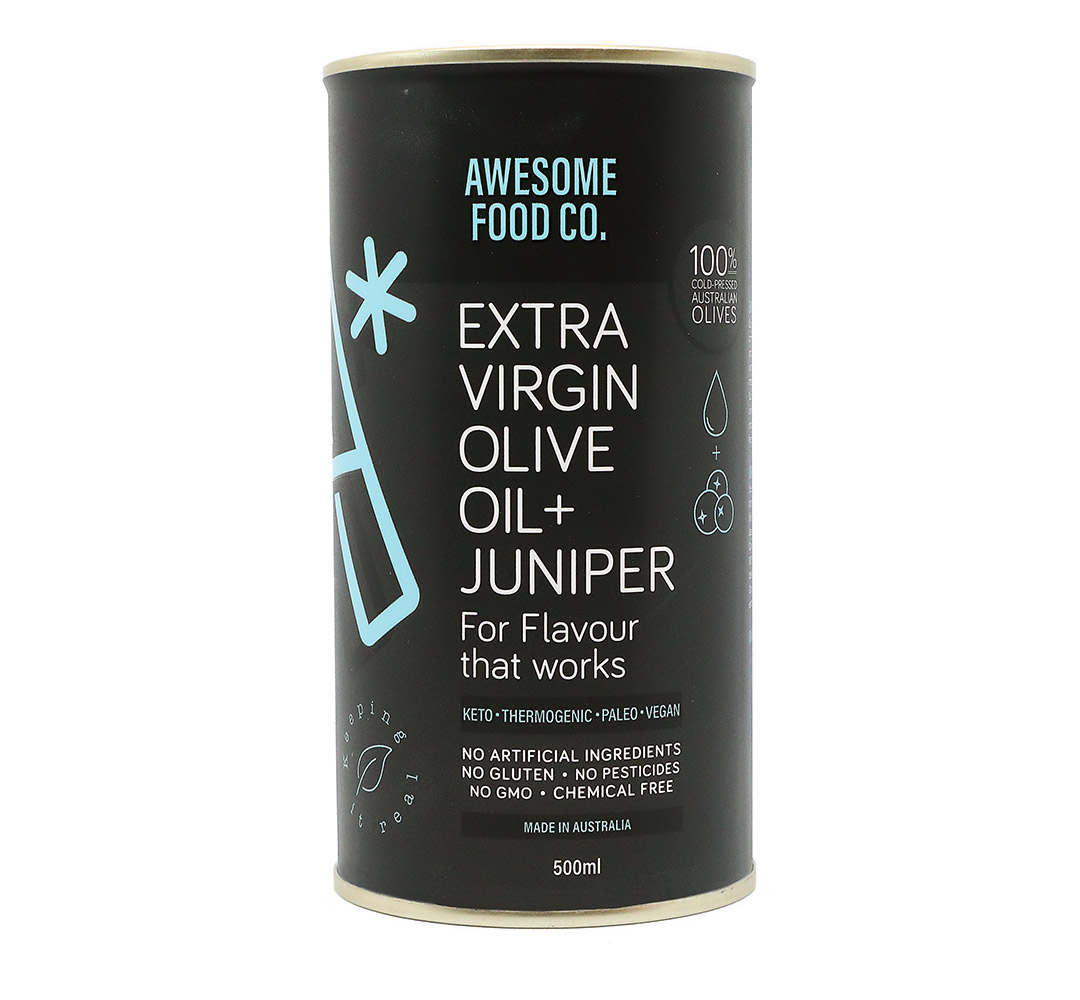 For wholesale enquires and stockist please email us at hello@awesomefoodcompany.com.au